After 14 years in our "new home", the builder-grade appliances are failing.  We've already replaced the refrigerator and microwave (love the new Samsungs!).  Last week, we started our dishwasher as we left for an Orioles' game.  When we returned 8 hours later, it was still running and stuck in the heated wash cycle and had melted the plastics, charred some dishes, and warped the dishwasher frame.  So the search began!
I found a great introduction by reading Yale Appliance's Dishwasher Buying Guide, which gave me a crash course on American vs. European models and the different drying cycles.
Next, I focused on the features that were important to us (length of cycle, 3rd rack, drying efficiency, stainless interior & exterior, and appearance), then set out to look at the options.
MY TOP 3 FAVORITES:
Miele Classic Plus (G4975 SCVi SF)
Pros: top quality, known for dishwashers, best drying cycle in the industry, 3 spray arms with full wash arm on top, comfort close
Cons: Length of normal cycle is 2:19, no "status" light visible, not my favorite 3rd rack, pricey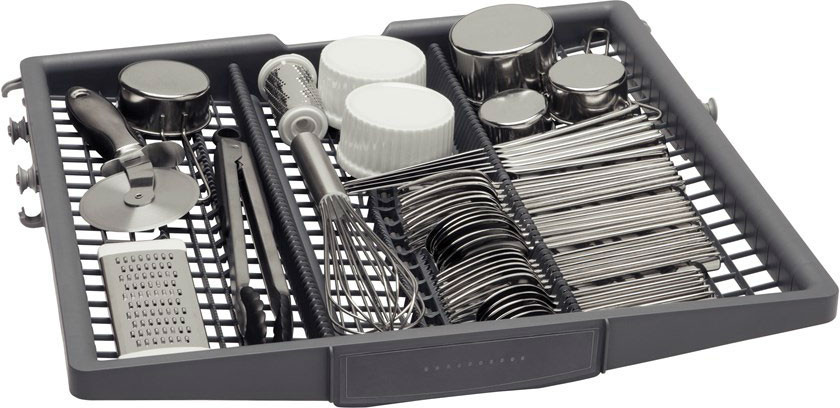 Pros: Length of normal cycle is 2:10, has 30-minute express wash, my favorite exterior appearance (pocket handle), light on floor when running, least expensive of my favorites
Cons: No true drying cycle & doesn't dry plastics well (improve drying performance by emptying the bottom rack first & using rinse aid)
Pros: Fan assisted drying cycle, length of normal cycle (1:55-2:30), new advanced wash system with more than 140 sprayers & bottle jets GE Wash System Video, light on when running, metal ball-bearings
Cons: I don't like the handle options & they don't work well with our oven and refrigerator, pricey
A less expensive option is the GE GDT695, which has the same 3rd rack, bottle jets & ball-bearing sliders but not the newest wash system.
NOTES ON OTHER BRANDS:
KitchenAid – highly rated/Consumer Report favorite, fan dry, metal bearings, I didn't like the 3rd rack (too flat) or handle options (don't go well with our kitchen)
Asko – high end, much smaller inside, I loved the middle 3rd rack in one of their styles, very expensive
Thermador – same as Bosch, but different door and more expensive
Fisher & Paykel – drawer style (not what we were looking for); we have their wonderful ovens and warming drawer
Kenmore Elite – made by Whirpool or KitchenAid
Jenn-Air – same 3rd rack as KitchenAid
Samsung – Consumer Reports says their dishwashers have the highest percentage of problems.
WHERE TO SHOP:
Strosniders in Bethesda (6930 Arlington Road) has a beautiful new Miele showroom with the full line of top quality Miele appliances including an induction cooktop and the really cool built-in coffee maker!
Bray & Scarff – Tim at the Bethesda location is very knowledgeable and helpful.  I found the best pricing there, too.
CONCLUSION
Buying a dishwasher is quite complicated, so it boils down to weighing what features are most important to us.
If I could build my own dishwasher, I would combine the Miele's drying cycle, GE's new wash system, Bosch's door panel, and Bosch or GE's 3rd rack.
It was a tough decision, but we chose the Bosch since it was the least expensive of the favorites and the door front will go best in our kitchen.